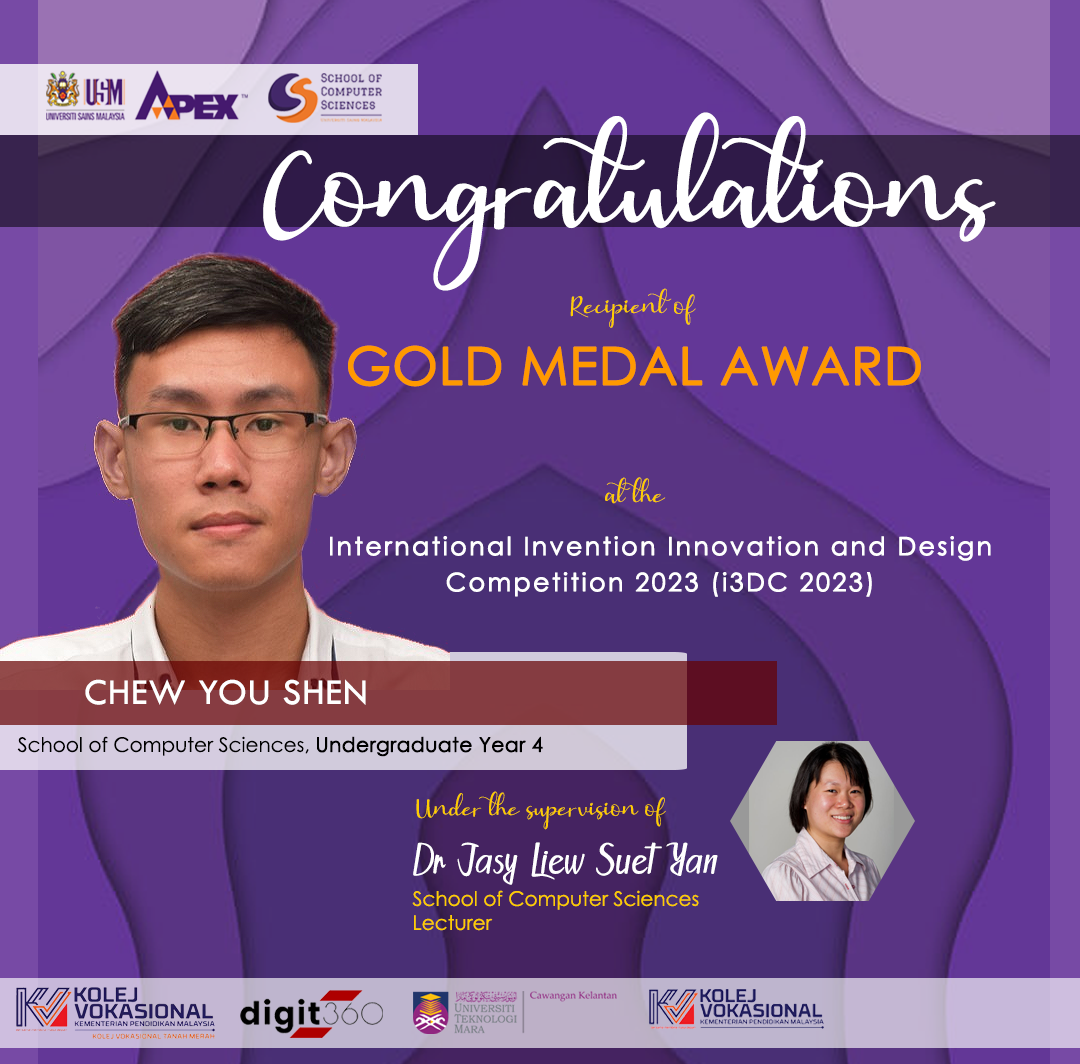 Congratulations to Mr Chew You Shen!
Congratulations to Mr Chew You Shen, School of Computer Sciences, Undergraduate Year 4
for being the recipient of GOLD MEDAL AWARD at the
International Invention, Innovation and Design Competition 2023 (i3DC 2023)
The competition organized by Kolej Vokasional Tanah Merah, DIGIT360, Universiti Teknologi MARA Kelantan Branch, in collaboration with Bahagian Pendidikan dan Latihan Teknikal Vokasional and Zon Kelantan – Zon Terengganu (KELTER) was an online international level competition that aimed to showcase investable social innovations that would benefit the society and impact the community and nation. This year's theme is "Invention, Innovation & Design for Education Sustainability".
(https://i3dc.my)
A total of 701 projects from Malaysia and Indonesia competed in this event. Some notable universities that has participated in this event includes UM, USM, UPNM, UTeM, and UKM.
https://www.facebook.com/i3dcmalaysia
Mr Chew You Shen has submitted a presentation of his Final Year Project (FYP) titled MYPOLITICS - AI Powered Web Application that Analyzes Political Sentiment in Malaysia on Twitter, under the supervision of Dr Jasy Liew Suet Yan, Senior Computer Sciences, USM.
The project is web application that can retrieve Malay tweets related to Malaysia politics and politicians from Twitter, uncover relevant topics automatically and its corresponding keywords from Malay tweets, create sentiment and emotion detection models based on Malay tweets and display visualized political insights. Two AI algorithms has been implemented within the project, which are Long Short-Term Memory (LSTM) Neural Networks and Latent Dirichlet Allocation (LDA) algorithm.
https://booth.i3dc.my/x-video-exhibition.php?xid=227&secID=f6fa40383d46ca5136f18d356679f40a
Mr Chew You Shen won the Gold Medal in the University/Vocational College Category.