ITEX 2020 Goes Online, USM Researchers Bag 7 Gold, 3 Silver, 2 Special Awards
PENANG, 24 November 2020 - Universiti Sains Malaysia (USM) researchers once again showed their research prowess when they bagged 7 Gold, 3 Silver and 2 Special Awards in the recently concluded International Invention, Innovation and Technology Exhibition (ITEX) 2020, held online for the first time due to the ongoing worldwide COVID-19 outbreak.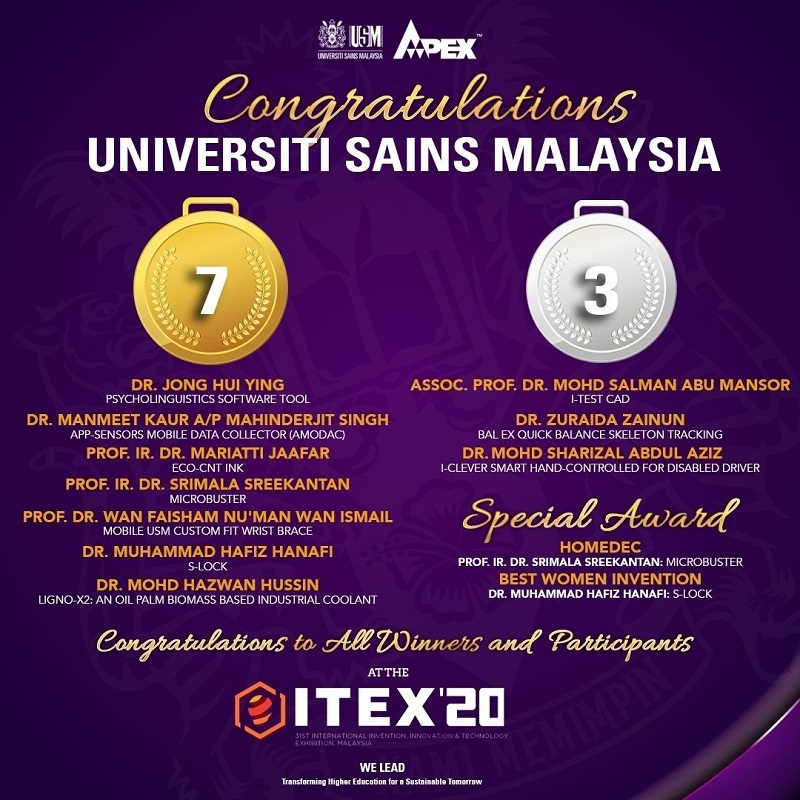 According to the Director of USM Centre for Innovation and Consultation, Professor Ts. Dr. Hanafi Ismail, this feat means that USM maintained a 100% victory, repeating last year's achievement when all of its innovations/research products entered for the competition was awarded a medal.
"The victory this time is even sweeter as a majority of them won gold medals and two received special recognition awards, despite being under unfamiliar territory where the entire competition was conducted online for the first time.
"For this edition, participants were required to submit a video to demonstrate and explain their innovations, and this is enough to pose a challenge to our researchers, especially the younger researchers to deliver the best possible in terms of understanding and impact for online judging," said Hanafi.
He added that the videos will be made available on ITEX Online until March 2021, and the organiser will provide the platform for easy access and browsing to any potential industry player.
Online pre-judging of the ITEX Competition took place from 12 - 16 November, followed by the final judging session on 20 November by a selected panel of judges and the winners were announced in a virtual ceremony on 21 November on this platform.
Credit: USM News Portal
Judges came from various fields including industry partners, universities, research institutes, inventors, and the corporate sector.
It was reported that the online edition of ITEX this year became a new option in view of the worldwide travel restrictions due to the pandemic, and it has garnered a very good response from budding inventors from all over the world.
Inventors from 21 institutions of higher learning, 5 research institutions and one corporate organisation spanning 15 countries such as Australia, Canada, Croatia, Hong Kong, Indonesia, Iran, Poland, Qatar, Romania, Taiwan, Thailand, Turkey, Ukraine, Vietnam and Malaysia have gathered online to showcase close to 500 inventions on this platform.
The list of USM researchers and their innovations:
GOLD
1. Dr. Jong Hui Ying (School of Humanities) - Psycholinguistics Software Tool
2. Dr. Manmeet Kaur A/P Mahinderjit Singh (School of Computer Sciences) - App-Sensors Mobile Data Collector (AMoDAC)
3. Prof. Ir. Dr. Mariatti Jaafar (School of Materials and Mineral Resources Engineering) - Eco-CNT Ink
4. Prof. Ir. Dr. Srimala Sreekantan (School of Materials and Mineral Resources Engineering) - Microbuster
5. Prof. Dr. Wan Faisham Nu'man Wan Ismail (School of Medical Sciences) - Mobile USM Custom Fit Wrist Brace
6. Dr. Muhammad Hafiz Hanafi (School of Medical Sciences) - S-Lock
7. Dr. Mohd Hazwan Hussin (School of Chemical Sciences) - Ligno-X2: An Oil Palm Biomass Based Industrial Coolant
SILVER
1. Assoc. Prof. Dr. Mohd Salman Abu Mansor (School of Mechanical Engineering) - i-Test CAD
2. Dr. Zuraida Zainun (School of Health Sciences) - Bal Ex Quick Balance Skeleton Tracking
3. Dr. Mohd Sharizal Abdul Aziz (School of Mechanical Engineering) - i-Clever Smart Hand-Controlled for Disabled Driver
SPECIAL AWARDS
1. Homedec - Prof. Ir. Dr. Srimala Sreekantan: Microbuster
2. Best Women Invention - Dr. Muhammad Hafiz Hanafi: S-Lock
The International Invention, Innovation & Technology Exhibition (ITEX) is an annual exhibition which features the best innovations from Asia and beyond.
Initiated by the Malaysian Invention and Design Society (MINDS) in 1989 as MINDEX, today ITEX is the region's leading exhibition to showcase new inventions, technologies and products, targeted at aspiring inventors from all walks of life to get recognised and to present their creations with the aim of securing investment, manufacturing and commercialisation prospects, and partners.
The exhibition features inventions across more than twenty categories relating to innovation or technology.
For the record, ITEX is Malaysia's longest-running invention, innovation and technology exhibition.