Girls in ICT Day: 2nd Animation using Scratch Workshop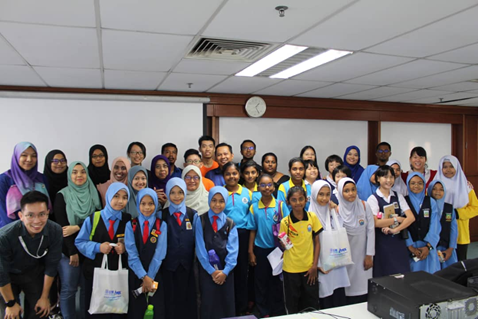 9 August 2019 - As part of ITU's Girls in ICT Day campaign in 2019, Universiti Sains Malaysia (USM) in collaboration with Telebort conducted our second Animation using Scratch Workshop at the School of Computer Sciences, Universiti Sains Malaysia, Penang (CS USM) on 8 August 2019. For the second workshop, the task force thought it would be a good idea to bring the girls from nearby schools to experience learning coding at a university computer lab with high-tech computers. Twenty-eight primary school students aged between 10 – 12 years old from seven schools (SK Minden Height, SK Sungai Gelugor, SK Bukit Gambir, SK Bukit Gelugor, SJKC Kuang Hwa, SJKT Subramaniya Barathee and SJKT Jalan Sungai) participated in the workshop. Again, the goody bags and prizes for the workshop were generously sponsored by L'Oréal Malaysia.
Overall feedback from the girls is positive. The goal was to expose young girls to coding and get them interested in ICT professions from a young age. This group of girls had more traditional notions of what they would like to be when they grow up (e.g., doctor, teacher, lawyer). Perhaps the few more non-conventional ambitions we heard were chef, businesswoman, scientist and fashion designer. Hopefully the campaign has helped the girls discover more options on the professions especially tech-related ones they can pursue down the road.
The second workshop is the final Girls in ICT campaign event in 2019. Many thanks to the task force for their hard work in putting together two Scratch workshops. There were many impossible challenges that were made possible and many valuable lessons learnt along the way. It is amazing to learn how different it is to teach primary school students as opposed to the more matured students we are used to. Also, a big thank you to Dr. Rosni (our staunch supporter and mentor) as well as Dr. Gan Keng Hoon, Dr. Intan and Pn. Rosnah for volunteering as judges in the Animation Challenge. Not forgetting our student volunteers (Sahira, Ming Li, Mastura, Aina and Fatin) and all staff involved making the workshop a success. Our Girls in ICT initiative will be featured in the UNESCO Bangkok STEM4GW Report (thanks to Dr. Wan Tat Chee for sharing the CFP).