USM Students Win First Prize in Hilti Competition in Switzerland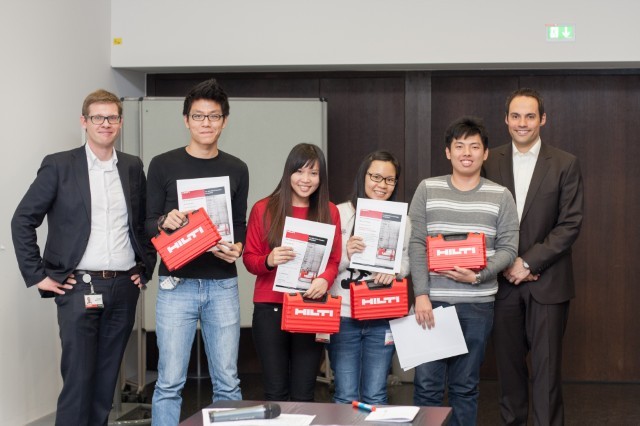 PENANG, 23 January 2014 - Four final year students from Universiti Sains Malaysia (USM) School of Computer Sciences have won the first prize in the 2014 Hilti IT Innovation Competition held in Switzerland last week.

The winning team comprised of Soh Sin Siang, Oh Ying San, Wong Wan Ping and Jonathan Ng Zhen Yuan submitted their idea presentation on "Emotion intelligence. Communication. Link-up the employees" (Ec-Link), beating 10 other teams from Switzerland, Netherlands, Korea, Austria, Liechtenstein, USA, Germany, Indonesia and Malaysia. Ec-Link is an innovative idea that enables one's emotion to be identified during teleconferencing.

For example, in a teleconferencing meeting, the presenter/speaker can identify whether a particular person in the meeting is paying attention or not, or whether they are happy or sad during the course of the meeting even though they are at different locations.

With the theme 'Communication and Collaboration. Anytime. Anywhere.', this competition is held to gather the best ideas on how to create better communication and collaboration between Hilti and its customers as well as among Hilti employees, compile information for easy access/retrieval, prepare instruction manual, and create a team of highly creative individuals with high productivity that works well together.


Hilti is a company providing cutting-edge technology to the global construction industry. Hilti employees are in direct contact with customers on construction sites and provide solutions for complex construction-related problems.

This competition is opened to university students of all levels worldwide including the undergraduates, Masters, and Ph.D students.

For emerging first place, the USM team was awarded a once-in-a-lifetime trip including a five-night stay at one of Hilti's European or American IT city where they will have the opportunity to meet Hilti members, and also to get to know Hilti and its strategic partners better. - Translation: Tan Ewe Hoe/Text: Nor Rafizah Md Zain/Photo: Students' contribution