Monsoonsim Enterprise Resource And Management Competition (Mermc) 2019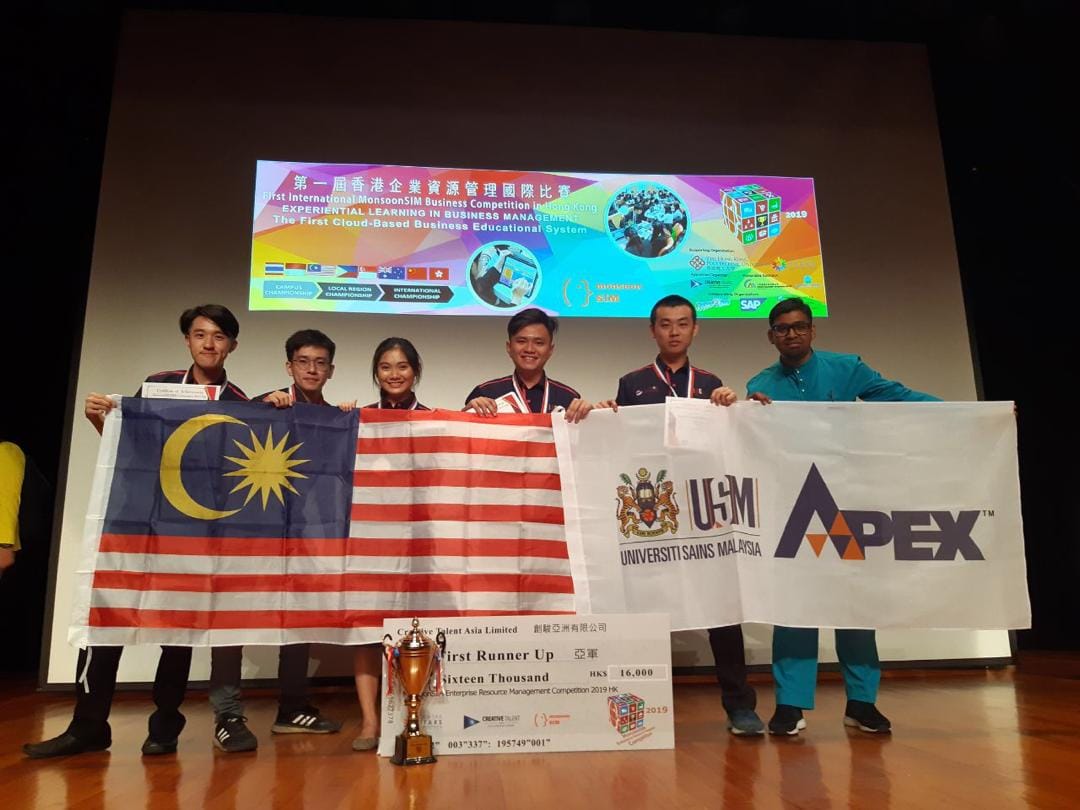 12 August 2019 - Tahniah kepada Pasukan Frozeneko (USM) telah memenangi tempat kedua dalam MonsoonSIM Enterprise Resource and Management Competition (MERMC) 2019 Regional Final yang diadakan di The Hong Kong Polythenic University, Hong Kong pada 10 - 11 Ogos 2019.
Sebanyak 30 buah pasukan dari 8 buah negara (Malaysia, Thailand, Indonesia, Filipina, Singapura, Australia, China dan Hong Kong) telah bertanding dalam pertandingan kali ini. Pasukan USM yang telah mendapat tempat kedua dan membawa pulang wang tunai bernilai HKD16,000, sebuah trofi dan medal.
Coach:
Mohd Khairul Anwar Habib Rahman, EpiC@USM>
Peserta:
1. Rex Lai Beng Keong, Sains Komputer/2
2. Leong Chi Kin, Sains Komputer/2
3. Yau Yi Wen, Komunikasi/1
4. Ernest Cha Junxian, Komunikasi/1
5. Medad Wong Shen Ern, Komunikasi/1
Monsoon Simulation (MonsoonSIM) adalah permainan atas talian yang berasaskan pengurusan perniagaan yang telah dicipta oleh Monsoon Academy.
Kemenangan pasukan itu berdasarkan markah pencapaian matriks yang telah ditetapkan:
Games (70%)
1) 15% - Net Profit
2) 15% - Profit Margin
3) 20% - KPI Target
4) 10% - Operating Expense
5) 5% - Late Shipment Wholesales
6)5% - Retail Stockout
7)5% - Inventory Value
8) 5% - Sales Service
9) 10% - Utilization Warehouse
10) 10% - Market share - sales - B2B
USM Achievement - 85.6% (59.92%)
Presentation (30%)
USM Achievement - 17.98%
Total Achievement = 77.90%
1st prizes
Trophy, medal and Cash Money
HKD26,000
2nd prizes
Trophy, medal and Cash Money
HKD16,000
3rd prizes
Trophy, medal and Cash Money
HKD10,000