Dr. Jasy Liew Suet Yan: Doctoral Dissertation Award Runner Up 2017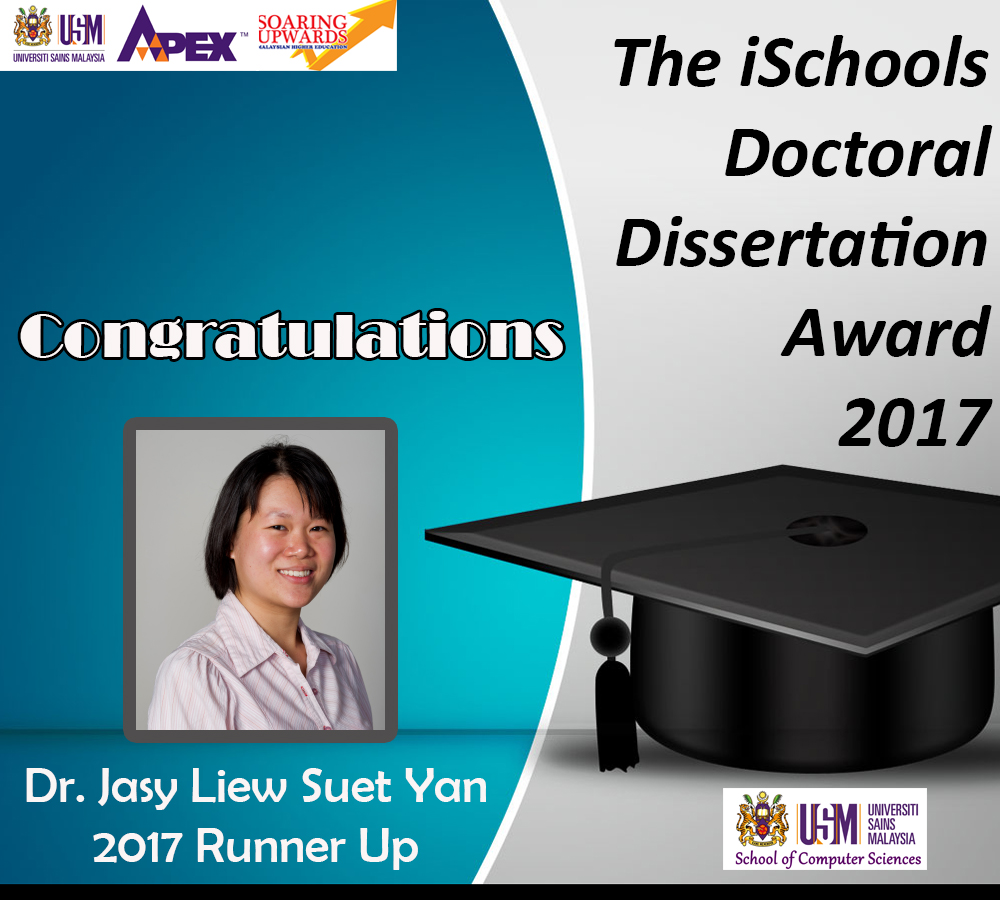 Jasy Liew Suet Yan, a 2016 graduate of the Syracuse iSchool's Ph.D. program is now a senior lecturer at the School of Computer Sciences, at the University of Science in Malaysia. Her dissertation research was also recognized with the Syracuse iSchool's 2016 Doctoral Prize at Convocation. Her dissertation was titled "Fine-Grained Emotion Detection in Microblog Text."
"I am honored to have my dissertation, written in blood, sweat and tears, recognized as making a significant contribution to the field of information science," says Liew Suet Yan. "Given how diverse the research is in the competition, this award is especially gratifying and meaningful to me as it shows that the research community acknowledges the significance of the effort to better understand the richness of emotions expressed in text in order to help computer systems become more sensitive and accurate in recognizing human emotions. The field of information science is indeed a supportive breeding ground for research combining qualitative and computational methods to further our knowledge on emotion expressed in text."
Liew Suet Yan notes that she is grateful for the support of her two dissertation co-advisors, former Syracuse iSchool faculty member Howard Turtle, and iSchool Dean Elizabeth Liddy.
"I appreciate their tireless support and insightful discussions on research as well as for allowing me the freedom to pursue research projects that have helped me grow into a competent and independent scholar," she says. "The teaching, research and learning opportunities with supportive and enthusiastic professors, Ph.D. peers, staff and students at the iSchool have equipped me with the necessary knowledge, tools and intuition to become an effective teacher, researcher, advisor and mentor."
"I am so very pleased for Jasy, for her dissertation committee and the great work they did supporting her, and kudos to Dean Liddy for once again guiding her advisee to an award-winning dissertation!" says Professor Steve Sawyer, director of the Ph.D. program at the Syracuse iSchool.
"Our Ph.D. program is defined by its advisor-centered structure; a flexible, interest driven, program of study; and, great students," Sawyer says, "and Jasy's an amazing young scholar and has worked so well with Liz and her committee to pursue an innovative topic building on strong methods!"
(Text from : https://news.syr.edu/2017/02/ischool-faculty-member-ph-d-graduate-honored-with-dissertation-awards)
For more info : http://ischools.org/the-iconference/program/dissertation-award