Girls2Code CodeMaven 1.0
General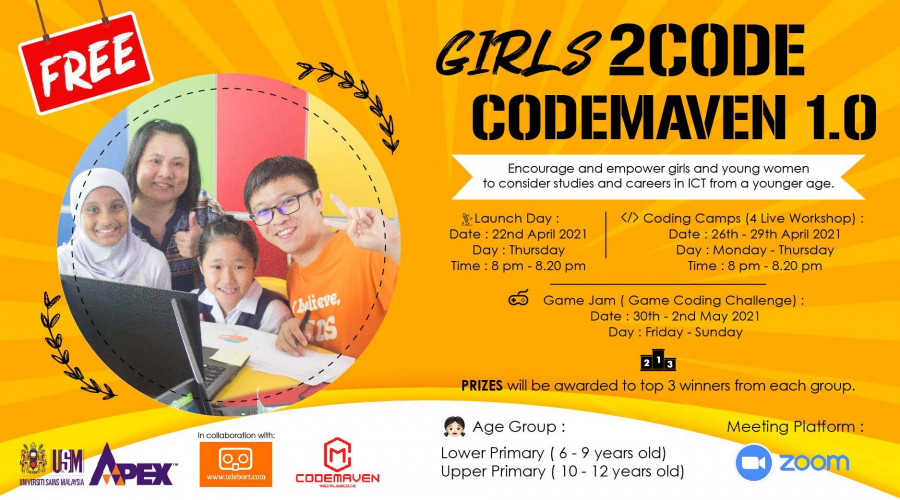 Date:
2021-04-22
00:00
-
2021-04-30
00:00
Venue: Online
CS USM (School of Computer Sciences, Universiti Sains Malaysia) and Telebort are proud to bring you Girls2Code CodeMaven 1.0 as part of our Girls in ICT Campaign 2021 (GICT 2021). The community engagement program is specially arranged for girls aged 6-12 years old ​and aims to encourage and empower girls and young women to consider studies and careers in ICT from a younger age, thus enabling both girls and technology companies to reap the benefits of greater female participation and readiness in the ICT sector in Malaysia.
Goals: In 2021, the CodeMaven 1.0 aims to:
Cultivate an interest in programming and becoming technology creators among young girls.
Create greater exposure to programming among girls and their parents through game creation.
Make female ICT role models more visible to girls.
Target Participants:
Lower primary schoolgirls (6 – 9 years old).
Upper primary schoolgirls (10 – 12 years old).
As our theme this year is to encourage girls to code with a parent or guardian, each registration includes a girl-parent team.
Theme: The campaign will focus on the theme of game creation using Scratch. The workshops are designed to encourage students to learn the programming constructs required to put together a simple but fun game.
Tentative Program: GICT 2021 will go completely virtual. The campaign consists of 1 virtual launch session + 4 live short coding workshops + 1 game coding challenge. All activities will be conducted using the Zoom online meeting platform.
Date & Time:
CodeMaven 1.0 Launch Day: 22 April 2021 (Thursday) – 8.00 - 8.20 P.M.
CodeMaven 1.0 Coding Camps (4 Live Workshops): 26 – 29 April 2021 (Monday – Thursday) - 8.00 - 8.20 P.M.


CodeMaven 1.0 Game Jam (Game Coding Challenge): 30 April - 2 May 2021 (Friday – Sunday
Our CodeMaven 1.0 social media channels.
All Dates
From

2021-04-22

00:00

to

2021-04-30

00:00